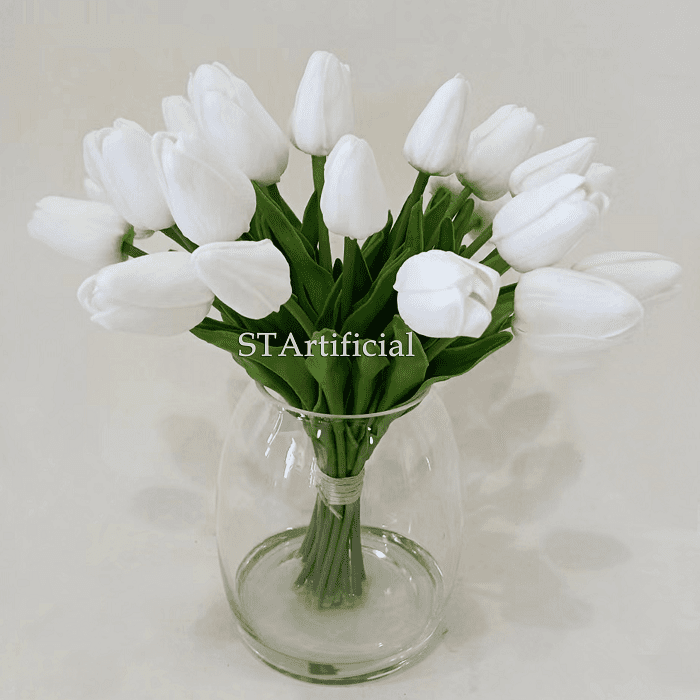 Key Specifications / Features
Discover the elegance of our 25-head faux white tulips, expertly crafted with faux water and encased in glass. These lifelike tulips originate from a state-of-the-art artificial tulip plant factory, ensuring impeccable design and quality. Each tulip stands at 29 CM in height and has been carefully designed to add a touch of everlasting beauty to your space.
Categories: Artificial Flowers
Tags: Elegant Tulips, Faux Tulips, Artificial Tulips
Request a quote
Product Name: Artificial White Tulips with Faux Water and Glass Vase, 25 Heads

Item No.: 23STZ293155
Size: 29 cm
Material: Plastic, Iron Wire, Cloth
MOQ: 1000 PCS


1. Premium Quality: Our artificial white tulips with faux water and glass vase are meticulously crafted to resemble real flowers, providing a lifelike appearance that is indistinguishable from the real thing.

2. Lifelike Beauty: Each tulip is carefully designed to replicate the elegance and grace of a natural tulip, ensuring a stunning decorative piece for your home or office. The realistic details and vibrant colors make them a perfect addition to any interior setting.

3. Factory Direct: Sourced directly from our state-of-the-art artificial plant factory, our tulips are made using the highest quality materials, guaranteeing durability and long-lasting beauty. Skip the middleman and enjoy wholesale prices with exceptional quality.

4. Versatile Decoration: These faux tulips are ideal for various occasions and spaces. Add a touch of elegance to your living room, dining table, or office desk. Perfect for weddings, parties, and special events, they create a charming atmosphere without the hassle of maintenance.

5. Customer Satisfaction Guaranteed: We prioritize customer satisfaction and stand behind the quality of our products. If you have any questions or concerns, our dedicated customer support team is ready to assist you. Experience the beauty of everlasting tulips with complete peace of mind.